This is a virtual seminar; link will be made available by email.
New insights into the molecular basis of intracellular calcium cycling and
therapeutic implications for PLN cardiomyopathy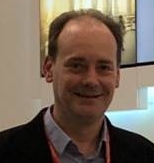 Recent mass-spectrometry techniques enabled the exploration of the proteomic and interactomic diversity of intracellular calcium cycling mechanisms in cardiomyocytes. Highly abundant RyR2-SERCA2a-phospholamban (PLN) complexes ≥1000 kDa were identified, while murine knockout of the protein phosphatase 1 targeting subunit PPP1R3A confirmed the first co-regulatory RyR2-PLN mechanism in the atria. Proximity proteomics captured six of seven 14-3-3 proteins within ~20 nm of PLN in living cardiomyocytes. While 14­3­3 monomers can provide chaperone‐like functions, 14­3­3 dimers primarily operate as phosphoadaptor protein scaffolds and key components in molecular signalling pathways. Distinct phosphosite-specific binding affinities and multimeric PLN pentamer/14-3-3 dimer interactions through avidity effects were found. Importantly, we confirmed that 14-3-3 binding to phosphorylated PLN containing the human R14del mutation is preserved through phosphosite pThr17 but disrupted for pSer16. As R14del is a cause of severe arrhythmogenic and dilative cardiomyopathy (a leading cause for heart transplantation in the Netherlands), targeting of highly conserved 14-3-3 interactions with PLN pentamers by small chemical compounds may open a unique translational route.