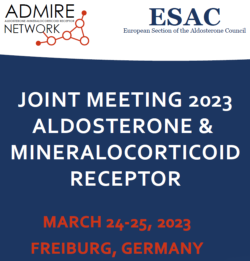 Save the date!
The Joint Symposium 2023 of the European Section of the Aldosterone Council (ESAC) and the ADMIRE Network on aldosterone and the mineralocorticoid receptor will take place from 24-25 March 2023 in Freiburg.
Meeting registration and abstract submission is open from 15 Dec 2022 – 15 Feb 2023 via http://meeting.admire-network.org.
Looking forward to seeing you all in Freiburg!
Achim Lother
on behalf of the organizers